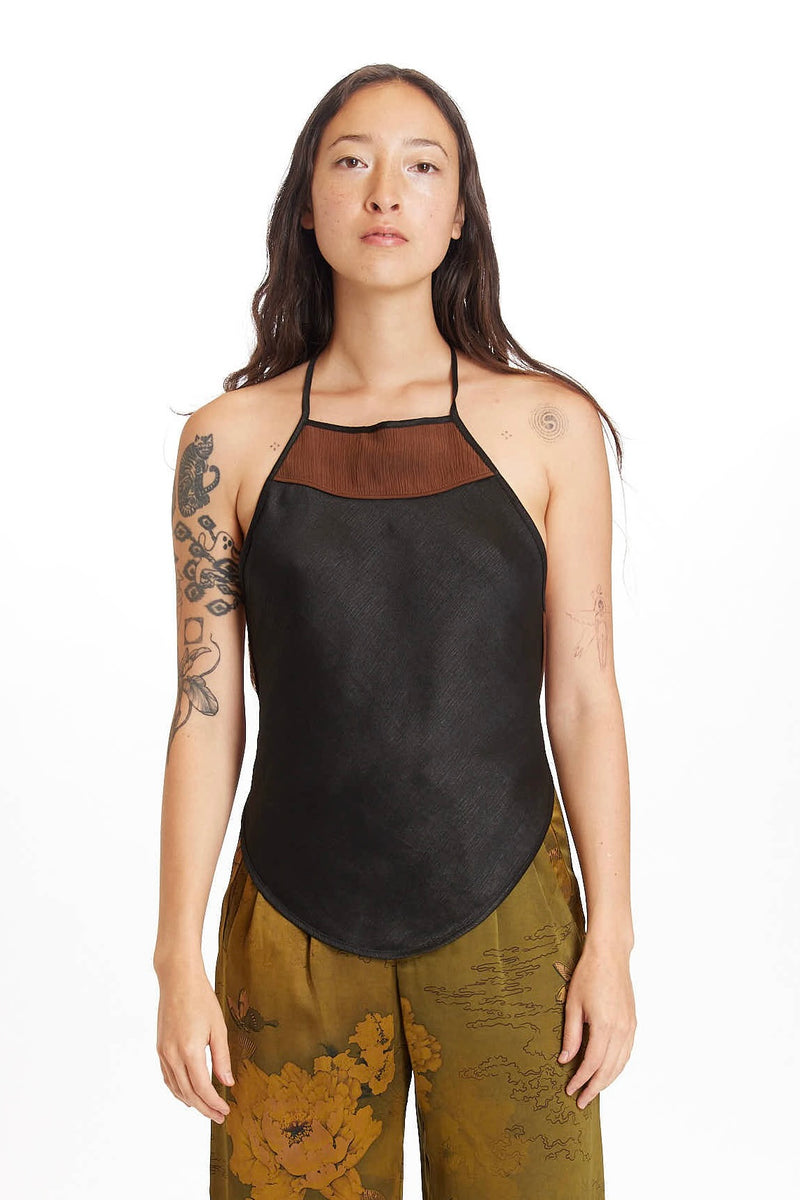 Black Plisse Reversible Backless Dudou Top
The dudou is a traditional Chinese undergarment with medicinal properties. It has been worn for centuries to protect one's Qi (energy). Specifically, it guards the stomach by covering it from the cold. In traditional Chinese medicine the stomach is where one's blood and Qi originates, so in order for them to circulate properly, one must keep the area covered and protected. Cue the dudou. 

In the early 2000s, the dudou was popularized as an outergarment in fashion, so you may already recognize this fun halter-style garment. But its' true origins go back hundreds of years!
Our interpretation of the dudou is elevated through the silk, excellent and flattering fit, reversibility (!), and contrast print play. You can be cute AND confident you're protecting your Qi ;) 
100% hand dyed xiang yun sha silk
Reversible: one side is Black Plisse and the other side is Brown Plisse. 

Black Plisse is a super luxe, finely pleated silk. Photos can not do it justice. It is a premium silk with superb luster and drape. 



Ties at neck and back
Baby hem
Fits true to size: take your normal size. If you're in between sizes we recommend sizing up.
Model is wearing a Small.
Love this style but not this print? Not sure about sizing? Email info@theziran.com for custom orders and help. We got you.
All discoloration, spots and idiosyncrasies are from the natural dyeing process and make each item unique. 
Handmade in small quantities in Los Angeles. 
Pair with the Serpentine Belted Trouser to complete the look.
Our silk is naturally anti-microbial and very durable: you can wear it many times before washing. But when it's time, hand wash with cold water and a mild soap. Hang to dry. Steam to remove any wrinkles. If ironing, iron on low heat.