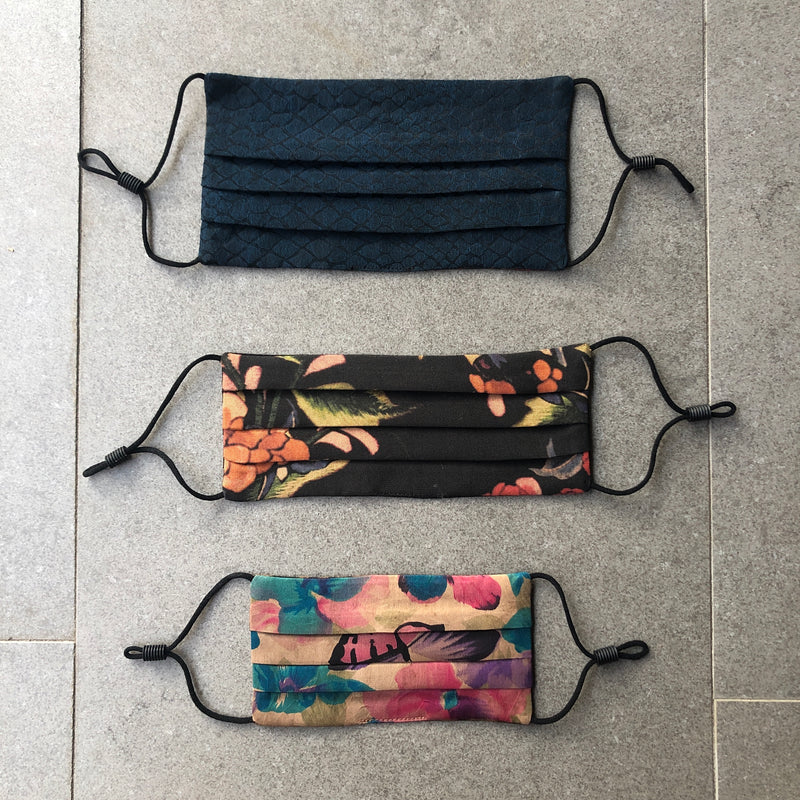 SMALLER FACES & KIDS FACEMASKS
Our signature reversible silk masks but for smaller faces + kids. 
After purchase, please email info@theziran.com to specify which print and size you'd like. 

100% hand dyed

 

xiang yun sha

 

silk
Reversible
Made from scrap fabrics, zero waste
Nose bridge + adjustable elastic for a perfect fit
SIZING:
First image (as reference): standard mask = 7" length x 3.5" width laid flat
Second image: smaller faces = 7" length x 2.5" width laid flat
Third image: baby/kids mask = 5" length x 3.25" width laid flat
If you have a "smaller" sized face, we recommend the smaller faces mask. It has adjustable elastic to ensure a perfect fit. 
Pair with a silk mask holder to complete the look. 
Care Instructions: Hand wash cold water, lay flat to dry. Iron to retain folds. 
All discoloration, spots and idiosyncrasies are from the natural dyeing process and make each item unique. 
Handmade in small quantities in Los Angeles, CA
Our silk is naturally anti-microbial and very durable: you can wear it many times before washing. But when it's time, hand wash with cold water and a mild soap. Hang to dry. Steam to remove any wrinkles. If ironing, iron on low heat.